LG Hausys Interior Film
LG Hausys Interior Film BENIF was developed with components satisfying the environment-friendly standards for various raw materials and adhesives, and transformed into a real eco-friendly product which meets the standards of public offices, schools, daycare centres as well as health-friendly homebuilding by achieving eco labels by types.
Finance Options
Want to spread payment for your office redesign? Take a look at our new finance options. Ideal 4 Finance can help you arrange an affordable package, so you don't need to wait for that new ambiance you always wanted. Offering competitive rates with flexible terms, it can be tailored to your exacting requirements. Read More
LG Hausys Interior Film Key Features
Easy to use
Being easy to apply with minimal preparation, noise or mess easy to repair if damaged.
Economic
Pressure sensitive adhesive bonds to many surfaces so you can remodel and reuse what you already have reducing labour and material costs.
Quick Application
The adhesive used virtually eliminates bubbles which adds to the ease and speed of application.
Get the look
Resembling natural materials and other types of surfaces remarkably well.
3D Concept Artwork
If you're looking for a change, but need help visualising what it might look like, we can help! By editing photos or using a 3D model we can show you what a LG Hausys material can look like in any space. Providing a great way to see the finished product before committing to one finish.
Using 3D software we can recreate the space to show you how layouts will work and where there is opportunity for improvements. Using Photoshop to swap in the colours and textures from our sample books to provide visuals to give you an idea of how the finished product will look before any work is conducted.
Suggested Application
Ceilings, Doors, Furniture, Lobbies, Elevators, Partitions, Walls, Hotels, Public Offices, Schools, Cafés, Residential Use, Commercial Use. For interior applications requiring maximum resistance to fading from UV exposures. Suitable for outdoor use. Please make sure to always check the Film Application Guide before use.
Walls
Give curved or straight walls an update in a wide choice of finishes.
Ceilings, Doors & Columns
Refurbish these areas without having to replace anything.
Fixtures and furniture
Simply wrapping fixtures and furnishings can create a new look.
Elevators
If you don't want your elevators out of use for more than a morning, then architectural films are your answer!
Curved Surfaces
Achieve the look you want on curved surfaces much easier with architectural film than the original material.
Flat Surfaces
A quick, easy method for transforming any space.
Technical Information
LG Hausys Interior Film BENIF is the product which was produced under the close quality control of LG Hausys and passed the strict flame proof testing of Korea Fire Institute. Also, the achievement of vessel material certification of Korean Register of Shipping by carrying out a performance test of vessel apparatus of KOMERI (Korea Marine Equipment Research Institute) proves its safety to be applicable for domestic and overseas vessels (except GS, GM, LE, PL, and WV colours).
Frequently Asked Questions about LG Hausys
If these frequently asked questions don't answer your query then get in touch.
Why wrap with architectural film?

It's a cost-effective method for producing consistent quality end products in a wide range of surfaces. It enables you to achieve the visual of rare materials in several different finishes and colours while saving money on materials, time and costs, with the added benefit of optimal features such as fire safety.

Is architectural film cheaper than a traditional renovation?

It is 50-70% cheaper than a traditional renovation and you can achieve the same visual result. Installation with no massive building work and you don't have to rip out all the old fittings to create a brand new look. Architectural film quick and easy to apply to flat and irregular surfaces which saves you time on install and on costs.

What can architectural film be applied to?

Literally anything that has a relatively smooth surface but it doesn't have to be a flat panel, architectural film can fit in any space, and wrap around any object. Walls, panels, fittings, furniture, doors, false ceilings, counter tops, glass walls, glass…
Our Accreditations
Our fitters are fully qualified to install all architectural films from our industry leading suppliers, LG Hausys being one of them.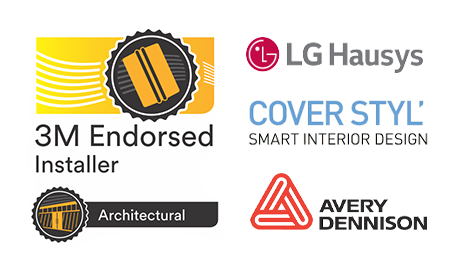 Our Last Case Studies
Have a look at our most recent case studies.